LANDSCAPING, HARDSCAPING, OUTDOOR LIVING AND DECKS  SERVING MOORESVILLE AND LAKE NORMAN
Monarch Landscape Design provides all the essential services for luxury outdoor living. From renovating a front foundation planting for enhanced curb appeal to an all-encompassing estate landscaping and outdoor living plan, we have the experience, equipment and discernment to exceed virtually all of our clients' expectations. Our custom landscape design and installation team work fervently on each project to ensure the highest level of quality and craftsmanship as we believe our reputation is at stake on each project. Monarch Landscape Design aims to provide you with an honest and open approach so that every individual want and concern is addressed throughout the entire project. Through our meticulous planning and attention to detail we present a custom plan that accentuates the architecture of your home while producing a comfortable transition from your already beloved interior spaces to new and engaging outdoor living areas.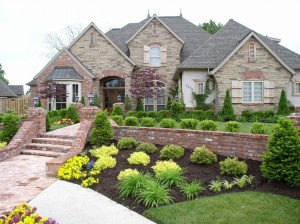 Landscaping
Completely accentuate the look of your home with a custom planting. We offer a wide design scale of custom landscaping options to fit any home. From contemporary to traditional, let us produce the curb appeal that's the envy of the entire neighborhood.
Hardscapes
From natural stone to virtually every man made hardscape material, Monarch Landscape Design has the expert artisans to provide your landscape with the functionality and character that is achieved though only these elements.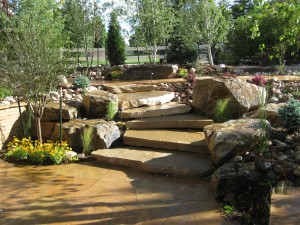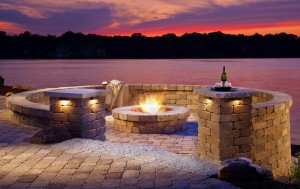 Outdoor Kitchens and Living Areas
There is only one way to truly experience everything that the four unique Carolina seasons have to offer, that is with a custom designed and built kitchen or outdoor living area by Monarch Landscape Design.
Fire and Water Features
If relaxing and enjoying the tranquil sounds of a custom built water feature or the captivating experience of a custom designed fire feature is on your mind, let Monarch Landscape Design provide you with these luxurious elements that every discerning homeowner deserves.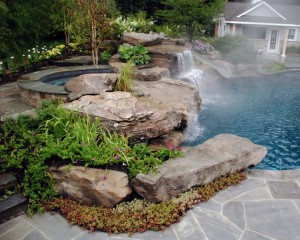 Custom Decks and Pool Houses
Whether it's grilling on the back deck or staying cool under the shade of a pool cabana, Monarch Landscape Design has the building expertise and design dexterity to provide you with a product that fits seamlessly into any outdoor living concept.
Design
Monarch Landscape Design understands how difficult it is as a client to take an image that you've seen and visualize it fitting into your existing landscape. No worries, that's where our industry experience and 3D modeling come into effect.